Home
Talk

0
230pages on
this wiki
Wiki created August 31, 2006‎
Welcome
Welcome to Spider Riders Center
Hi welcome to Spider Riders Wiki, we welcome anyone who can help this wiki out! We are currently trying to find one or two more ACTIVE admins, if anybody would like to be an admin then please leave a message on my talk page! SpiderRidersCorona 16:28, August 11, 2011 (UTC)
We also need some rollbacks too.
The young Hunter Steele searches for the legendary Inner World by following the instructions in his grandfather's journal. He enters a cave where he finds a mysterious Manacle that attaches itself to him. A spider startles Hunter, who falls into a hole to the center of the Earth and into the subterranean world of Arachna. There, he discovers a small group of elite warriors struggling to survive and to save Arachna from the attack of giant insect mutants. The warriors are teenagers, each fighting with the help of their own 10 ft. (3.0 m) battle spiders. They call themselves "Spider Riders".
There is a prophecy that says an Earthen, like Hunter, will bring disaster to the Inner World. Sparkle mentions it in the beginning of the television series, pondering "I wonder if he will bring doom to us...or to them".
Featured
Featured Article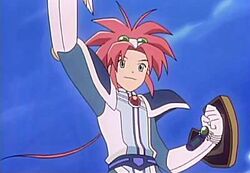 Hunter Steele, is a brave Spider Rider from the Outer World. Hunter saved the Inner World from Mantid and became the greatest champion, as he had always dreamed he would. He came from the Outer World by following his grandfather's journal to the Inner World. He met a large armored spider, but not just any spider, but the greatest and strongest spider ever named Shadow. They started not that friendly but they get along and work together like a true team. Hunter's battle partner Corona is a warrior chosen by the Oracle to be her Hand Maiden. Corona is the first human friend Hunter makes while in Arachna. There is a high chance that he has a crush on her, It is also shown that he admires her spirit but is too shy to share them. In "Smells Like Team Spider", he unknowingly stares at Corona while she is marveling at the flowers. When they are battling the Invectids, his mind is calmed by the image of Corona's face. Lastly, when asked what changed Hunter's mind about the flowers, he becomes a bit embarrassed as it was Corona's image that changed him. Also, since Corona was the first person to discover Hunter, he has known her the longest besides Shadow.
Poll
Poll
Please vote for October's Featured Article
What should next months featured article be?
Site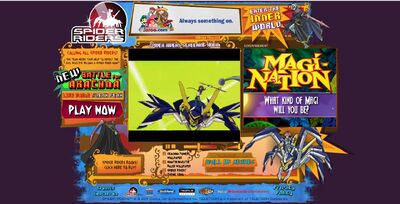 Spider Riders Official Site- http://www.spiderriders.com/
Play games, shop, view the Wall of Heroes.
Affiliates
Affiliate's