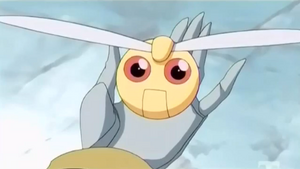 Buzzbit is a very small bug-like Invectid that is about the size of a baseball. It has a single pair of wings and two large red eyes. The Messenger Bug, as it's more commonly known, is often used by Dungobeet to spy on the Spider Riders. It relays the information it finds out to whoever sent it. It was what informed Scarab of Grasshop's demotion from the "Big Four". Usually Lord Mantid or Buguese is on the receiving end of a Messenger bug.
Ad blocker interference detected!
Wikia is a free-to-use site that makes money from advertising. We have a modified experience for viewers using ad blockers

Wikia is not accessible if you've made further modifications. Remove the custom ad blocker rule(s) and the page will load as expected.